Learning to scuba dive is easy and fun. You can find out most of what you need to know about the process just by watching the short video below.
Prerequisites
Anyone who is in reasonably good health, and comfortable and relaxed in the water, can usually learn to dive without difficulty.
Students need to be twelve or older by the start of the course. Ten- and eleven-year-olds can take part in one of our summertime scuba camps to earn Junior certification.
You need to be able to answer No to all questions on the PADI/RSTC Medical History form, or secure a physician's approval for diving prior to the start of the course.
There is a watermanship assessment. You need to be able to float, tread water or drownproof for ten minutes and either:
Swim 200 yards, no time limit, any stroke.
Swim 300 yards with mask, snorkel and fins.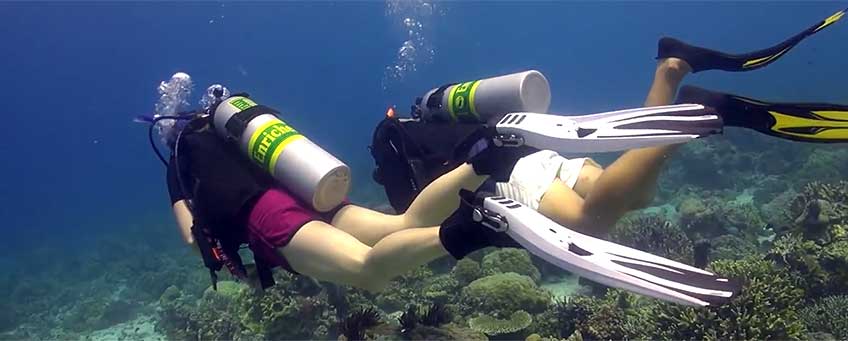 What is Involved?
The certification process consists of self study, academic review and skill development, and four open-water training dives.
You can complete the self study requirements using either a textbook and DVD or digital materials.
Academic review and skill development involves going over what you have learned through self study with your instructor and then mastering several critical skills in the pool.
Open water training involves four instructor-supervised dives made over two days.
Academic review sessions take place at Just Add Water. Skills development sessions take place at any of a number of nearby pools. From June through October, you can complete your open-water training dives at White Star Quarry here in Ohio. During the rest of the year, you can complete your training on one of our many group trips or at a dive destination of your choice.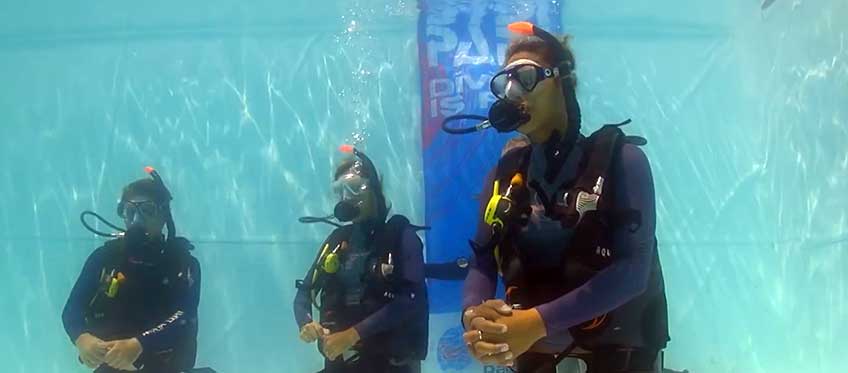 When can you start? Part One - Class & Pool
Classes start on a Friday evening, from 6:30 to 9:30 pm and then continue on Saturday morning and afternoon, and Sunday morning and afternoon.
Willoughby Starting Dates
Friday, October 27th
Friday, November 3rd
Friday, November 10th
Friday, November 17th
Fairview Park Starting Dates
Friday, November 10th
Friday, November 24th
Friday, December 8th
When can you finish? Open Water Training Dives
If your plan is to complete your Open Water Training Dives locally, the dives are conducted at White Star Quarry in Gibsonburg, Ohio. Training dives take place on a Saturday and Sunday where you will complete 2 dives each day for a total of 4 Open Water dives. (In some cases you may be able to begin your Advanced Open Water Training during the same weekend! Contact Just Add Water for more information!)
June 10th & 11th

June 17th & 18th
July 8th & 9th

July 22nd & 23rd
August 12th & 13th :: Dive Fest Weekend
August 26th & 27th

September 9th & 10th
September 23rd & 24th

October 7th & 8th

October 21st & 22nd

How much does it cost?
The Open Water Diver class and pool instruction is $385 and includes:
Open Water Crew Pack and Open Water DVD
Academic review and skill development
Use of tanks, regulators, BCDs and weights in the pool
Your own set of regulator mouthpieces (for your health & safety)
Call or visit to discuss options and prices for the learning materials you will need.
If you do your Open Water Training Dives here in Ohio the price is $150, plus the cost of equipment purchase or rental. If you do your training dives at a resort destination, you will need a referral package which costs $42.95. Prices for the actual training dives will vary by destination and operator.

Required Equipment
You will need your own mask, snorkel, wetsuit boots, adjustable scuba fins and a few other items for both pool sessions and open water training dives. These need to meet some very specific requirements, so don't buy anything without talking to us first.

If you do your open water training dives here in Ohio, you will need to supply all of the necessary equipment. Most of these items, other than mask and fins, are available for rental.
How to Sign Up
You can sign up in person or over the phone at either Just Add Water location. If you sign up over the phone, you will still need to visit the store as soon as possible to pick up training materials and complete or turn in paperwork.
Need Forms?
Vist our Downloads page to access any waiver, medical and other forms you may need for upcoming Just Add Water scuba courses or experiences.