Dive and Travel Insurance
Insurance exists to protect us against unpredictable expenses. We insure our cars, our homes, our health and our valuables. Doesn't it make sense to insure yourself against the unexpected while you enjoy your favorite recreational activity?
Divers Alert Network (DAN) offers both Dive Accident Insurance as well as Travel and Medical Emergency Coverage.

Joining Divers Alert Network (DAN)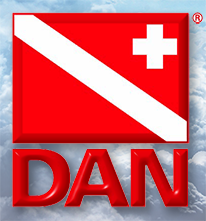 Divers Alert Network (DAN) membership offers a host of benefits:
Assistance through DAN TravelAssist. DAN TravelAssist offers around-the- clock access to skilled support such as prescription assistance, medical monitoring, emergency messaging, translator referrals and more.
Alert Diver Magazine. Now available on iPad and Android, this award-winning publication is shipped exclusively to DAN Members and features the latest in dive safety, education, medicine, travel, photography and more.
Dive Accident Insurance
Your primary medical insurance may exclude scuba diving as a hazardous recreational activity and/or may not provide coverage when are you traveling out of the country. If it does provide coverage, it may only pay a minimal amount for chamber treatments. There are also often large out-of-pocket payments for deductibles and co-pays.
The DAN Dive Accident Insurance Plans are recognized worldwide and can be confirmed 24 hours a day through the DAN Emergency Hotline.
What is covered by Dive Accident Insurance?

This is a brief summary of covered events. Additional events may have coverage.
To learn more click here.
Travel and Medical Emergency Coverage
Travel insurance gives travelers coverage for unforeseen problems, from a cancelled flight to a serious illness—or in rare cases, even an act of terrorism or the financial default of a travel supplier. If an illness, accident, or other covered unforeseen circumstance forces a traveler to cancel or interrupt their plans, they can face two potentially significant major financial losses—money invested in nonrefundable pre-payments, and medical expenses that in many instances may not be covered by health insurance. You can get Trip Insurance for just that one special trip or for two or more trips.
Sickness, Injury and Death: You become sick or injured, or a non-traveling family member passes away and you are unable to make the trip or must return home early.
Adverse Weather: Your flight is canceled due to adverse weather such as a hurricane or snowstorm.
Job Loss: After at least one continuous year of employment you are laid off and can't go on your trip.
This is a brief summary of covered events. Additional events may have coverage.
To get a quote and see the differents plans click here.