Beginning diver courses generally limit emergency skill training to self rescue and tired diver assists. Why?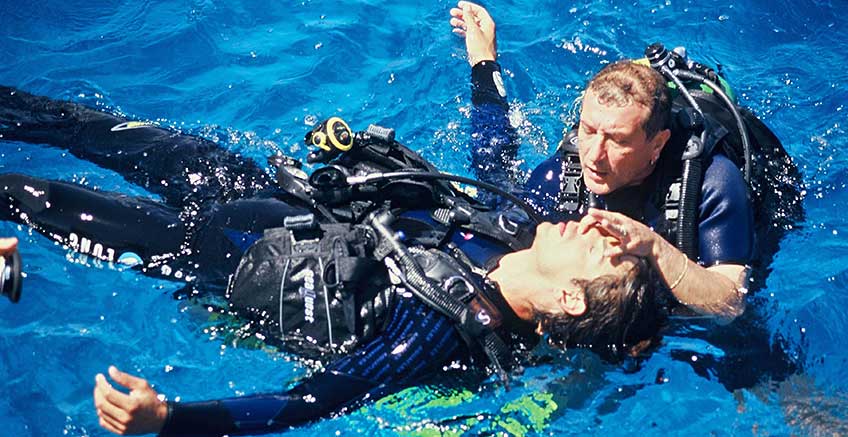 What is Involved?
This course involves:
Extensive self study, followed by two evenings of class work, during which you will review the homework and discuss upcoming dives and skills.
Where
Except as noted, classroom sessions take place either at our Willoughby or Fairview Park locations. Locally conducted open-water training dives generally take place at White Star Quarry.
When Can You Start?
Classes are generally held on a Tuesday and Thursday evening, followed by a weekend of open-water training. 
April 9th & 11th (class)

April 13th & 14th (pool)

Quarry : TBA
OPEN WATER DIVES are being held at White Star Quarry on Sunday, October 21st
Please Note:

While we make every effort to ensure that the information appearing on our website is accurate and up-to-date, it is your responsibility to call Just Add Water at least 24 hours in advance to confirm date, time and meeting place.
Cost
The cost for this course is $355, which includes course materials and pocket mask. Students are responsible for transportation, lodging, meals, dive site admission, and must supply the items listed below.
Required Equipment
Students are also responsible for supplying the following:
Pocket mask.

Mask, snorkel, fins.

Adequate exposure protection.

One cylinder per dive, per day.

Weight system, weights.

Buoyancy Control Device (BCD).

Regulator/alternate air source.

Depth gauge/timer or computer.

Audible surface signal.

Surface signal (safety tube).

Cutting tool.

Slate.
All of these items are available for purchase at Just Add Water; some may be also be available for rental.
How Do You Sign Up?
Just call or visit either Just Add Water location.
Need Forms?