The Advanced Adventurer course introduces students to critical knowledge and skills that beginning courses don't have time to cover.
Additionally:
Students gain additional open water experience under the guidance and supervision of a knowledgeable instructor.
They receive an introduction to a variety of specialty diving activities.
Their recommended depth rating goes from 60 to 100 feet.
Students meet an important prerequisite for additional continuing education courses.
Prerequisites
Students must meet the following prerequisites:
Be certified the Open Water Diver level (or equivalent)
Be able to answer No to all questions on the

Medical History form

, or secure a physician's approval for diving prior to the start of the course
What is Involved?
In the Advanced course, you make a total of five specialty dives, Buoyancy, Underwater Navigation and Deep dives along with two others that are choosen from a list of optional specialty dives.
Where
Except as noted, classroom sessions take place either at our Willoughby or Fairview Park locations. Locally conducted open-water training dives generally take place at White Star Quarry the same weekends as our regularly scheduled entry-level open-water training dives. You can also take the Advanced Open Water Diver course in conjunction with many of our Just Add Water group trips to exotic dive destinations around the world. Contact store for details.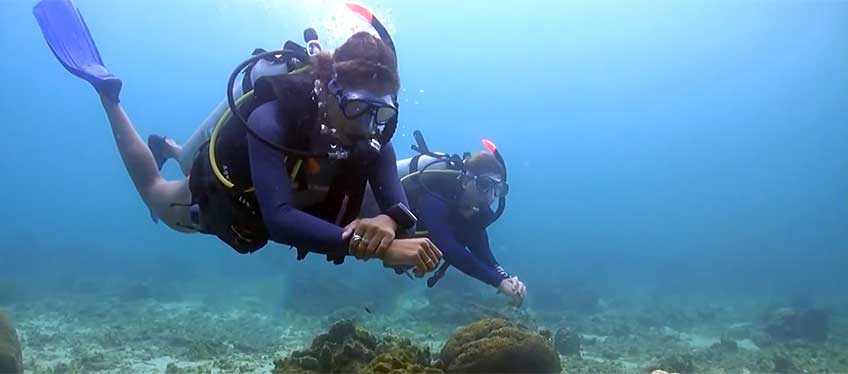 When Can You Start?
Contact Us For Upcoming Class Dates
The Advanced course takes place on the following schedule:
Classroom: Usually takes place Wednesday or Thursday evening, 6:00-9:00

pm

.
Open Water: *Generally* takes place the following Saturday and Sunday.
What dives do we do on each day?
On Saturday we generally do Underwater Navigation and Peak Performance Buoyancy, plus one of the following: Underwater Photo, Search and Recovery, Night or Wreck Diver.
On Sunday we generally do Deep Diver and one of the following: Underwater Photo, Search and Recovery or Wreck Diver.
You can also complete this course on many of our group trips.
Please Note:
While we make every effort to ensure that the information appearing on our website is accurate and up-to-date, it is your responsibility to call Just Add Water at least 24 hours in advance to confirm date, time and meeting place.
Cost
The course fee is $275 and includes all instruction, learning materials.
Students are responsible for supplying the equipment listed below, transportation to and from dive sites, dive site admission or charter fees, meals, overnight accommodations and tank fills (just as you would if you were out diving purely for fun).
Students wishing to do the Dry Suit Adventure Dive must schedule a pool session prior to open-water training and either purchase or rent a dry suit ($85.00).
Required Equipment
Students are also responsible for supplying the following:
Mask, snorkel, fins
Adequate exposure protection
One cylinder per dive, per day
Weight system, weights
Buoyancy Control Device (BCD)
Regulator/alternate air source
Dive computer or depth gauge and timer
Underwater compass
Audible surface signal
Surface signal (safety tube)
Cutting tool
Slate
Some items may be available for rental.
Proper equipment is essential for your safety & comfort while scuba diving. While we do have an extensive rental department and can lend you most required diving equipment, please be aware that you will be required to supply your own set of scuba appropriate, mask, fins and snorkel (we do not rent these items.) If you do not already own these items, please stop by Just Add Water to be educated on the different styles and what will work best for your diving habits. Being professionally fitted, (especially for your scuba mask) is essential. Your comfort and safety are of upmost importance to us at Just Add Water. We will do everything we can to make sure you are comfortable in your gear and enjoying your scuba experiences to the fullest.
How to Sign Up
Just call or visit either Just Add Water location.
Need Forms?
Vist our Downloads page to access any waiver, medical and other forms you may need for upcoming Just Add Water scuba courses or experiences.