New Class - New LOWER Price! All materials can be accessed online! Through interactive learning, you can complete the required academic study at home, and then come to class for the academic review and practical applicaiton sessions!
Few things have revolutionized recreational diving in the past decade as much as the introduction of Enriched Air Nitrox (EANx).
Nitrox is nothing more than the air you are breathing right now with some additional oxygen added to reduce the concentration of nitrogen. Breathing less nitrogen provides divers with several benefits. Among them:
You enjoy longer no-decompression limits and shorter surface intervals — especially on repetitive dives.
You reduce the risk of decompression sickness compared to making the same series of dives using air.
Your dive computer (required for the course) should be capable of tracking your exposure to both air and Nitrox. Isn't it time you started taking advantage of your computer's capabilities?
Prerequisites
Students must meet the following prerequisites:
Be certified the Open Water Diver level.
Be at least 15 years of age.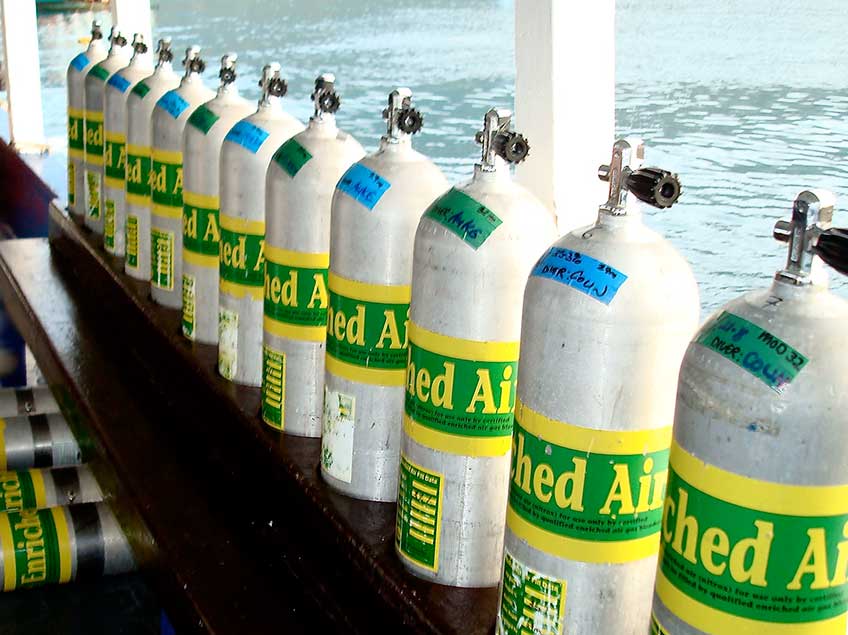 What is Involved?
This course involves self study and a bried classroom session, during which you will review the material and get hands-on practice analyzing cylinders and logging mixtures.
Where
Except as noted, classroom sessions take place either at our Willoughby or Fairview Park locations.
When Can You Start?
Weeknight classes typically run from 6:00 until 8:00. Saturday class sessions typically run from 10:00 until noon. Important: Confirm these times with the store before the start of class.
Willoughby Starting Dates
December 20th
January 17th
February 6th
March 14th
Fairview Park Starting Dates
January 9th
February 20th
March 27th
Please Note:
While we make every effort to ensure that the information appearing on our website is accurate and up-to-date, it is your responsibility to call Just Add Water at least 24 hours in advance to confirm date, time and meeting place.
Cost
The course fee is $180 per person for our group classes (3 or more students) or
$220 for private classes (1 or 2 students)
and includes all required learning materials.
How Do You Sign Up?
Just call or visit either Just Add Water location.
Need Forms?
Vist our Downloads page to access any waiver, medical and other forms you may need for upcoming Just Add Water scuba courses or experiences.
Ssi Enriched Air Diver - Nitrox
$199.00